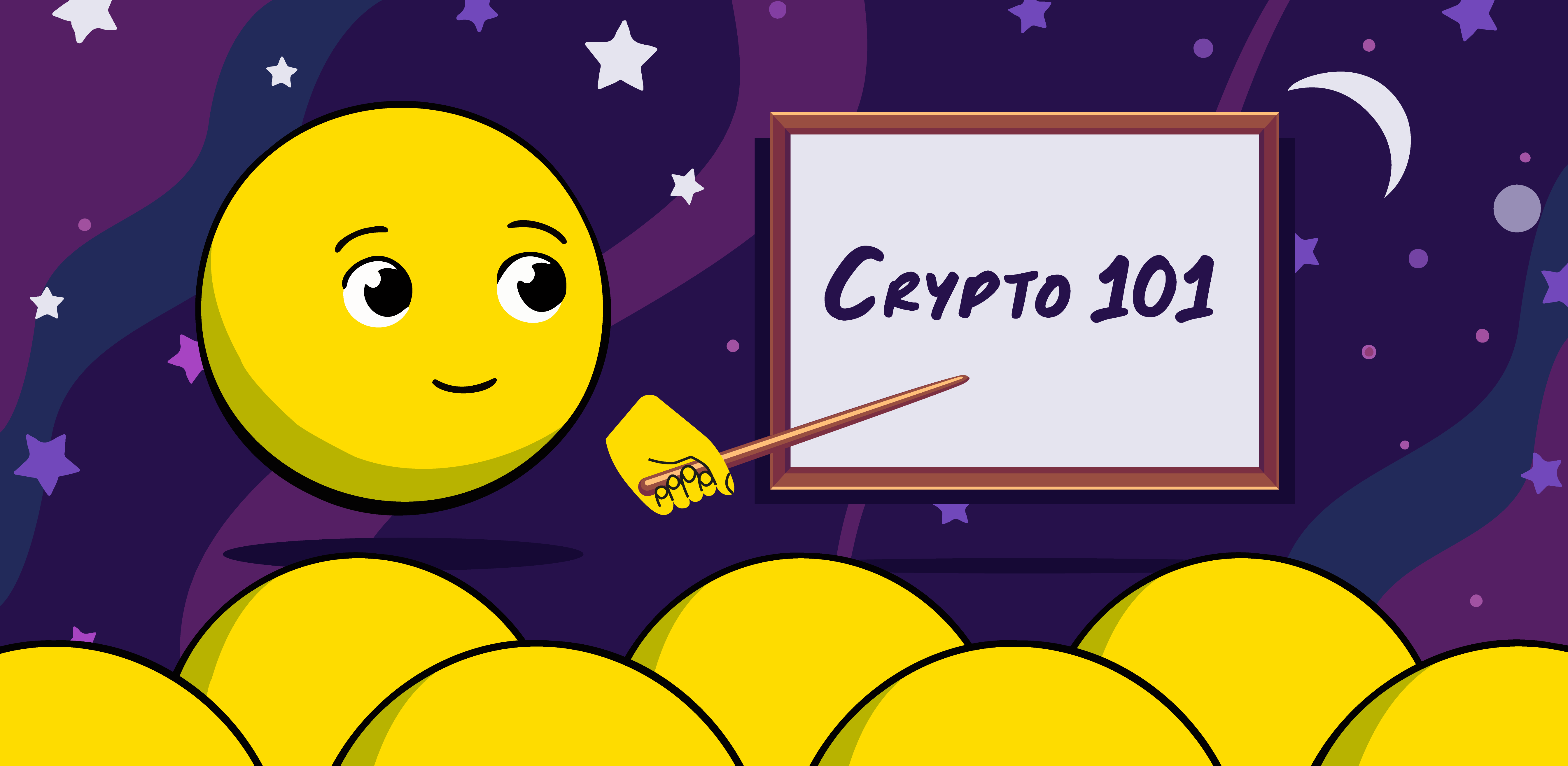 The world's recent events are causing more and more people to think about the safety of their savings. More and more of them choose to invest in cryptocurrency. Here, for example, your wallet belongs to you only, and no one can freeze your assets; on the other hand, the responsibility of the safety and all operations rests only with you.
Therefore, you should first understand the following points.
What You Need to Know Before Going into Crypto
Getting acquainted with the world of cryptocurrencies is better to start with a choice of strategy. Investing or trading are the main ones. The first implies the acquisition of an asset and long storage. The second is short-term speculation. A trader makes many transactions with digital assets, trying to benefit in a short period.
Strategy 1: Investments
There are a few types of investments in crypto:
Buy and hodl
You can buy Bitcoin, Ether, or any other coin for fiat and wait for its rate to increase. If handled properly, such an investment will bring a big profit after a certain time. However, no one canceled the negative scenario for cryptocurrencies, and their value can fall sharply, up to a complete depreciation. Besides, such an investment method means investing not even for months, but for several years or more.
Put in a trust
This way, you invest in a trader who makes transactions on a cryptocurrency exchange and receives your interest. But still, there is a high risk of loss of invested funds because no trader is secure from damages.
You can invest in a cryptocurrency company and become its "stockholder". The disadvantage of this method of crypto investing is the choice of a valid company as well.
Strategy 2: Exchange Trading
Trading cryptocurrency is an extremely risky craft. The price of altcoins is volatile, on a day it can fluctuate by 10–20%, sometimes by 50% or more. For this reason, it is better to try trading cryptocurrency from a training account first. The largest cryptocurrency exchanges, such as Binance, Coinbase, Huobi, OKEx, and others, allow users to open demo accounts for transactions without making a deposit. This will allow you to get acquainted with the market and the structure of the trading platform, and practice.
Then you can deposit a small amount on the exchange. This will help the user understand his psychology: is he able to suffer losses and not make panic, erroneous transactions, control himself and decide with a cold head.
In addition, it is necessary to study the theory, listen to lectures on this topic, take courses, and get acquainted with technical and fundamental analysis. All this will help not only to see in the charts the ups and downs of assets but also to predict them.
Other Considerations: Fees
Transaction fees are an integral part of most blockchain systems. They perform two important functions. They reward miners or validators, who help confirm transactions, and protect the network from spam attacks.
Depending on the activity of the network, the transaction fee can be small or high. Its size is also derived from market conditions.
Getting Ready to Take Part in the Crypto Market
When you are ready with the strategy, ‌choose the best altcoins to buy.
Today there are 2290 coins. Some of them are junk, but some can be very advanced.
To make the right decision first you must make an analysis of it validity. It is best to start with Coinmarketcap – there is a rating of all cryptocurrencies by capitalization and a lot of useful information.
No matter how reliable the crypto is, you can't trust it with 100% of the investment. It is better to distribute money to several tools, so you can reduce the risks of loss.
For long-term investments, experts often say that you should choose cryptocurrencies that are in the top 30 at least. They are more stable, traded on many exchanges, and the probability of a sudden scam is minimal.
Less popular coins also can be considered for investment. But it is worth understanding that, besides the risks of the fall in rate, there is also a risk of the slip-off.
Follow all social media and forums, and monitor its activity: the more useful news on the topic, the better. If you see the developers do nothing, there is no news, then this means that they have lost interest in their project. It's better not to buy such a coin. It is also important to know if there is activity from investors.
Also, some coins can operate only on one blockchain, and some you can use on different. So if you are going to trade your funds, ‌keep it in mind and learn about the cross-chain process.  
Storing Crypto
When you are ready to buy crypto, you must choose the type of its storage.
Cryptocurrency wallet – an app, program, or separate device for sending, receiving, or storing electronic money. They are also can be "hot" and "cold". A hot wallet connects to the internet and could be vulnerable to online attacks, but it's faster and makes it easier to trade or spend crypto. A cold wallet typically has no online connection, so while it may be more secure, it's less convenient.
Below there are five types, with a brief description of their advantages and disadvantages:
Software Wallet
(Bitcoin Core, Exodus).
These wallets store crypto funds right on your computer. And you usually need quite a lot of space for this. For example, for a minimum installation of Bitcoin Core, you need at least 145 GB on your hard drive - and this is for only one currency;
Online Wallet (Blockchain, Wirex).
These wallets keep your coins in the cloud. You can use them from any device, even from your phone. But you need to choose the wallet carefully. If someone hacks it, you will lose all.
Hardware/ Cold Wallet (Trezor, Ledger).
These wallets are separate devices, so they are much more difficult to hack than a regular computer. But you need to carry them constantly, as well as remember the PIN.
Mobile Application (MyCelium, Breadwallet).
An IOS or Android app that allows you to manage your tools. Convenient, easy, and fast storage, but with low security. In addition, if your phone was lost, the finder will get full access to the wallet.
Paper Wallet (WalletGenerator.net, MyEtherWallet.com). 
A special site generates private and public keys, that can you can print or record. Also, remember that except for a sheet of paper on which the keys are recorded — they are nowhere else, so the loss is equivalent to the loss of all the money.
For investment, cold wallets are better. Thus, you can keep cryptocurrency on a computer or flash drive. Plus — security, no one can steal funds without direct access to it. For trading, the exchanges are the best. Using it, the client can sell or buy crypto and use additional options.
Crypto Exchanges
When choosing a cryptocurrency exchange, a novice investor needs to focus on some indicators. Such as:
Financial turnover of the crypto platform. Large financial turnover shows enough money in the closures of the exchange, meaning that many traders use such a platform. So, such an exchange is high quality and the trader will not have any problems with it.

The reputation of crypto exchange.

Fees, which are not the same everywhere.

For residents of different countries, crypto exchanges can also set geographical limits.

The number of trading pairs on the cryptocurrency platform and their market rate.

Payment options: find out how and how quickly you can transfer money to a crypto exchange account, and then

withdraw

it to your account or card.
All cryptocurrency exchanges are divided into:
Centralized Cryptocurrency Exchanges (
CEX
): Coinbase, Gemini, Kraken
Platforms, where users can trade cryptos and ordinary fiat. They coordinate cryptocurrency, trading on a large scale, using a similar business model to traditional stock exchanges.
Centralized exchanges usually offer their customers support, various trading pairs, and gateways for receiving and withdrawing, as well as additional services, for example, stealing, storage capabilities, IEO or DeFi services.
Decentralized Cryptocurrency Platforms (DEX): WavesDex, Bancor, Besk,
Uniswap
Unlike traditional CEX, on such platforms, transactions and trades are automated by using smart contracts and decentralized applications. This type of crypto exchange is much safer since a well-written smart contract will not allow hackers to hack it.
There are also aggregators like SwapSpace, where you can look at several offers and choose the crypto exchange that suits you best. 
Swapping Crypto
If your end goal is not just to put the purchased crypto in a stash, then you can exchange it for another coin. Swapping is a similar process to trading but with more flexibility. You can exchange any cryptocurrency for another even if the pair is not live on-the-spot market. This eliminates paying transaction fees more than once. In most cases, if you're only swapping a small amount, convenience is the bigger concern here. That said, crypto swapping applies to any level of volume.
Buying Crypto with a Credit Card
The fastest way to buy crypto is to use a credit card. The process for buying crypto with a credit card is fairly straightforward:
Find an exchange that allows credit card transactions. Your first step is signing up for a crypto exchange that allows you to use a credit card. And be ready to pass the

KYC

.

Double-check that your card issuer allows crypto purchases.

Enter your payment method.

Set up your transaction.

Pay off your balance as soon as possible.
Pros and Cons of Buying Crypto With a Credit Card
Pros
Investing without cash on hand.

Potentially earning rewards on your investment.
Cons
Purchases are often treated like cash advances.

Higher fees.

Your credit score could take a hit.

Even more risk.
Bottom Line
Digital asset trading needs to be taken seriously, calculated every step, and thought about possible negative consequences. The beginner should first decide whether to invest or trade. Then study the theory, take some courses, and practice with test mode. Then choose the cryptocurrency to buy and be ready to lose.
There is no game of luck. Don't neglect crypto education. Crypto trading is hard work. It may take years to understand how the price of assets behaves in a particular situation.
Don't trust anyone and don't hurry – do your own research before deciding. Choose the proven platforms for transactions and do not fall for fraudsters' ploys.