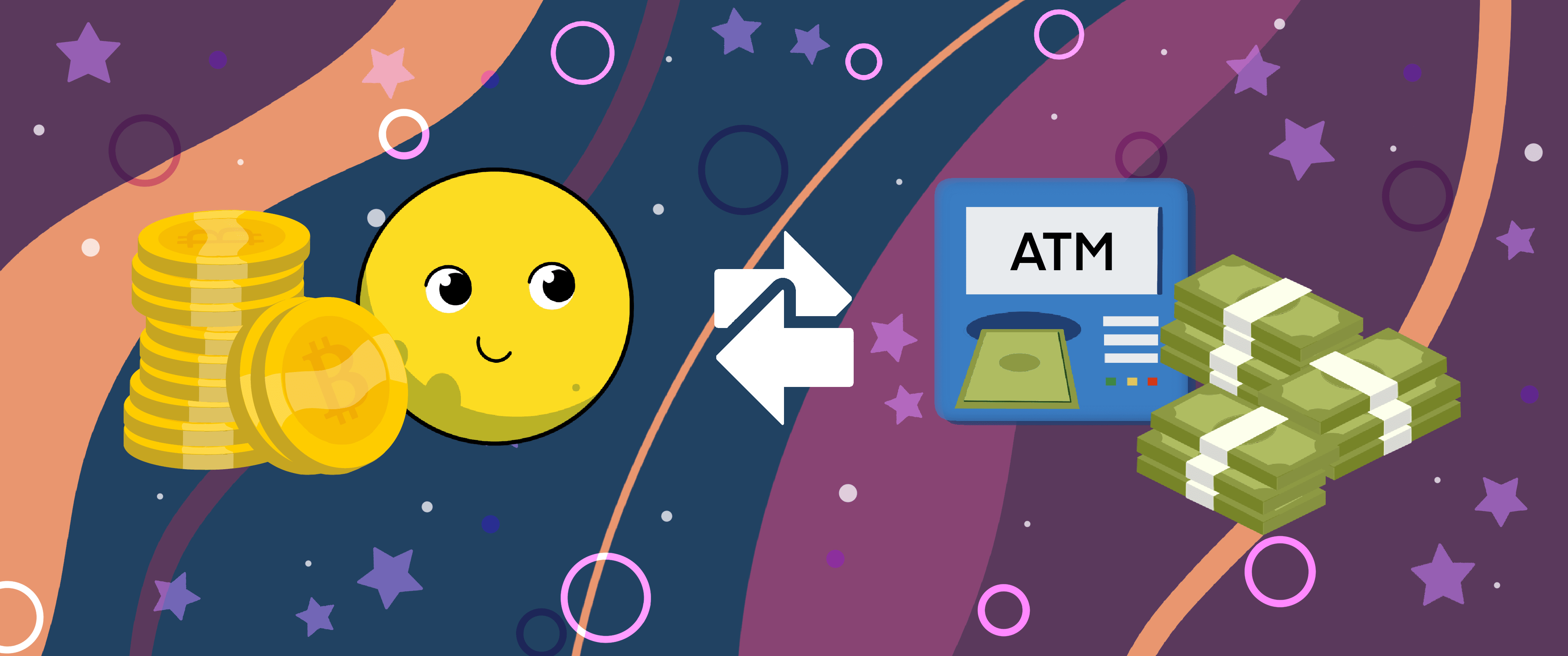 Getting familiar with the ways to cash out Bitcoin may very well be one of the top priorities for new cryptocurrency users. Figuring out the ways to bridge the gap between crypto and fiat currency on your own can be both challenging and time-consuming. Let's look at all of the different ways to convert Bitcoin to fiat before you make a decision that's right for you.
How Does a Bitcoin Exchange Work?
Before diving into how Bitcoin exchange works, it's important to get the terminology straight. A "bitcoin exchange" is the sale of Bitcoin in exchange for any of the currently available fiat currencies or alternative cryptocurrencies – dubbed "altcoins". A "fiat currency" is any currency without intrinsic value. Originally introduced as an alternative to commodity and representative money, these currencies are not backed by a country's gold or silver reserves. Most currently used world currencies – including the US dollar, Canadian dollar, and euro – are fiat currencies that are backed by the issuing government and have value only because the parties engaging in exchange agree to it. An "altcoin" is the umbrella term for all cryptocurrencies other than Bitcoin that have sprung up after its original success.
Best Ways to Cash Out Bitcoin
As of today, there are three main ways to cash out Bitcoin: 
Through a third-party exchange platform.
Through peer-to-peer exchange (or P2P).
Via a Bitcoin loan.

There are, of course, several less-popular and somewhat more risky ways to cash out: through a Bitcoin-to-cash ATM or with a Bitcoin debit card. Neither of these is recommended: Bitcoin ATMs are scarce at best in any country outside of the US, and non-fraudulent debit card providers are hard to come by.
Cashing out Through a Third-Party Bitcoin Exchange
This is, by far, the most common way of selling cryptocurrency. A third-party selling platform or cryptocurrency exchange an online marketplace and an intermediary that connects sellers and buyers allowing them to trade Bitcoin for fiat currencies or altcoins.Here's how it works: you'll need to create an account and prove your identity by providing the required identification documents. Many platforms will require you to transfer some money from your bank account to your online account, tying the two together for future cash withdrawal. Others may allow withdrawing cash thorough check mailing, cash delivery, bank wire, or credit card transfer. US and EU users of third-party selling platforms may also withdraw funds to a confirmed PayPal account.An outgoing transfer made through a third-party exchange is compliant with international Anti-Money Laundering regulations and will take anywhere from one to five business days to complete.
Peer-to-Peer Bitcoin Exchange 
A P2P exchange allows for more anonymity and the ability to personally negotiate exchange rates. In this case, the actual exchange of Bitcoin also happens online but without a central authority governing the network or a third party acting as an intermediary.Transactions happen privately, which helps users stay anonymous but may also increase the risk of getting scammed. To combat this, most platforms have introduced a rating system that allows sellers to review the reliability score of a potential buyer before going through with the transaction.If you decide that P2P trading is best for you, consider working with a platform that includes an escrow service. This will ensure that your Bitcoin will not be transferred to the buyer until the fact that they have made payment is confirmed.
Bitcoin Backed Loans
A more tricky solution to cashing out Bitcoin is through a Bitcoin loan. Certain financial service providers currently allow individuals to take out cash loans and deposit Bitcoin as a pledge, which is returned when the loan is paid back in full. This may prove especially advantageous if Bitcoin exchange rates grow over the duration of the loan.With interest rates low and fluctuating between 3 and 8%, this may be a worthwhile solution for those who need cash and still what to keep their Bitcoin.
The Takeaway
All three ways to cash out Bitcoin described above have their advantages and disadvantages. The more traditional third-party exchange is slow-paced but safer for beginners, whilst P2P trading allows for more anonymity and higher prices but may not be the most secure way to sell.Converting Bitcoin to cash is a lengthy process regardless of the method you end up choosing. Remember to do your research and gather all necessary documentation to prove your identity when making an account on an exchange platform. Make sure that all security measures are in place and allow a window of time for identity verification and the actual transfer when planning any Bitcoin transactions.