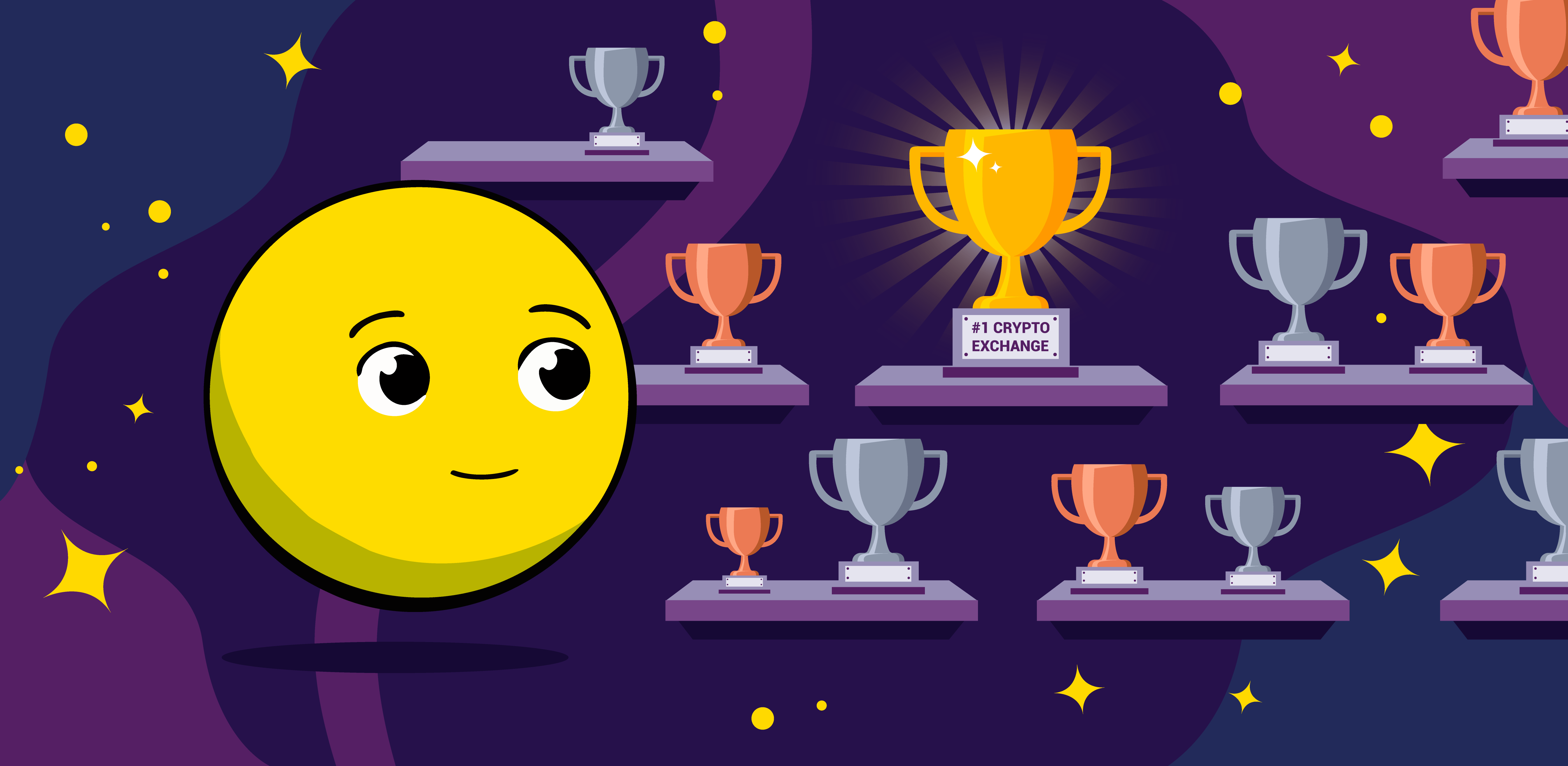 No matter what, the cryptocurrency market doesn't lose its interest and draws plenty of customers, and investors increase their assets.
If you are ready so far to operate with your digital currency, the next step is to open an account with a cryptocurrency exchange. To help you choose the right account for your needs, SwapSpace selected the best 5 crypto exchanges available today.
Binance
The world's largest cryptocurrency exchange offers an extensive array of digital assets and trading pairs and also has lower fees than other exchanges. With Binance, you can do trading, withdrawals, and deposits without passing KYC and can do up to 0.006 BTC withdrawals every day. However, users who transact large volumes of BTC will need to complete the KYC procedures so that they can transact on the platform. Plus, US users would need to use Binance.US, and passing KYC for them is compulsory.
The exchange also renders access to derivatives trading, lending, mining pools, Margin, and Future trading, and branded crypto debit cards.
Trading Fees
Spot: 0.1000% – 0.1000% / Futures: 0.0200%/0.0400% + Discounts
Payment methods
Bank transfers, credit cards, or crypto deposits
Withdrawal Limits
Without KYC: 0.06 BTC / With KYC: 100 BTC / 24 hours
Supports
Android and iOS
Coinbase
Probably the most beginner-friendly platform with the same mobile app. It comes with an easy-use interface, a massive variety of altcoin choices, and very high liquidity.
The crypto exchange also seems to be highly secure. They insure the digital funds and store US dollar balances in Federal Deposit Insurance Corporation and have no scam mentions.
What's more, the platform features its users' insured custodial wallet for storing cryptocurrency, which is also very easy to use for newbies. But the convenience costs its money - the transaction fees are high. And remember, that you don't control the private keys, the platform owns it. On the other hand, there is a Pro version with a non-custodial wallet, lower fees, and more options in charts and indicators.
Trading Fees
2%
Payment methods
Bank account, USD wallet, debit/credit card, ACH transfer, Wire transfer, and crypto conversion
Customer Service
Coinbase help page, emailed support tickets, an automated phone system, and a chatbot.
Supports
Android and iOS
KuCoin
This platform is another partial KYC exchange that is said to be one of the best alternatives for Binance as it provides a bigger range of altcoins at relatively lower fees than others. For users who pay with native KCS stablecoin, trading fees are decreased by 20%. 
Speaking about cons, trading relies on US dollar stable coins, not fiat currency.
Trading Fees
Spot: 0.1% – 0.1% / Futures: 0.02% – 0.06% + Discounts
Withdrawal Limits
Without KYC: 5 BTC / With KYC: 100 BTC / 24 hours
Payment methods
Bank account, USD wallet, debit/credit card, ACH transfer, Wire transfer, and crypto conversion
Daily trade volume
$100 million
Supports
Android and iOS
Interlude: Why do I need an exchanger aggregator?
To make the right choice of an exchange platform, it's clear you should study all directions from the position of the rate, reserve, number of payment methods, etc. For all these purposes, there are exchange aggregators, such as SwapSpace. Using it, you can see top crypto exchanges all at once, quickly analyze the situation and choose the best option from the entire available list. 
The algorithm of actions in all cases is identical.
the choice of the direction of exchange,
review effective offers from exchange rate position, reserve, conversion type, etc.,
platform Feedback Control, etc.
So there are two best swap cryptocurrency services.
Changelly
Changelly is a centralized altcoin swapping service that does not require its users to complete the KYC. Exposing the idea of privacy for its users, the exchange doesn't even verify your submitted email address. The most anonymous platform allows instant transfers from one crypto wallet to another across various cryptocurrencies.
As it said on its landing page, its main positive features are the fast speed of purchasing experience and high-level security.
Trading Fees
0.5%
Payment
Wire transfer, credit card, PayPal
Supports
Android and iOS
SimpleSwap
We pick another swapping platform that allows instant transactions through exchanges. Without charging KYC verification, they typically deposit the funds within a few moments.
The company has also launched a light crypto wallet that also supports a wide variety of crypto assets.
The instant swap exchange is also easy-to-use for newcomers and has a 24/7 live chat feature, through which users' issues can be resolved quickly, which is confirmed by a great number of positive user feedback.
Trading Fees
Payment
Credit card
Supports
Android and iOS
Conclusion
It is essential to choose the best crypto exchange according to your specific needs. So if low fees are important to you, Binance may be a good choice. Coinbase can be the best new user-friendly crypto app. KuCoin will become perfect if you want to trade some uncommon coins. When you are looking for extra privacy, swap services such as Changelly is the best exchange, while SimpleSwap could be perfect with its outstanding customer service.
When combing through a list of leading platforms, it's important to look at factors such as supported assets, fees, payment methods, and security. But right before opening an account, it is highly recommended to check their terms and policy documents.