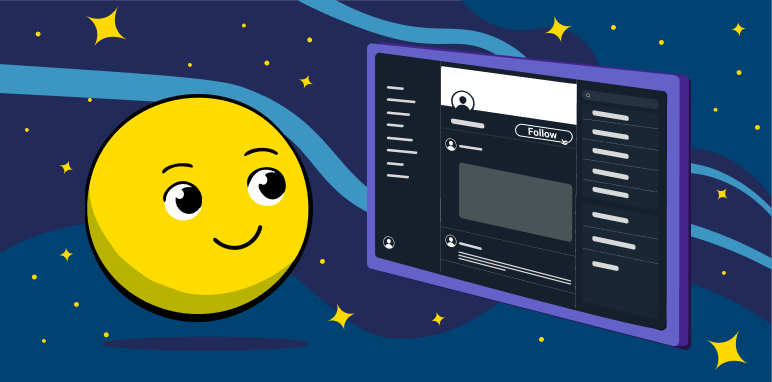 Twitter (or X, as it's known now) is the primary source of cryptocurrency information. Exchange owners, developers, investors, and traders - everyone has an account. Twitter's contribution to the industry is significant. Tweets and posts on social networks can have a significant impact on the trajectory of cryptocurrency assets and the overall sentiment of the market.
In this article, we will discuss crypto-Twitter and provide a curated list of accounts to follow to stay updated on the latest news in the crypto market.
What Is Crypto Twitter?
Investors discuss cryptocurrencies everywhere. There are Telegram channels, Discord servers, and even Facebook pages. However, none of the listed social networks are as dominant as Crypto Twitter - the number one platform for blockchain enthusiasts.
Crypto Twitter is a niche community consisting of developers, investors, and companies who enjoy discussing cryptocurrencies. This is the hub of the crypto community, serving as a vital space for memes, ideas, speculation, and social initiatives.
What Is Crypto Twitter Used for?
Crypto Twitter is filled with speculation. Traders discuss throughout the day which direction the market will go next. A plethora of graphs, technical analysis of cryptocurrencies, and influencer signals - all the information can be found on Twitter.
Additionally, analysts do not waste time — they analyze cryptocurrencies thoroughly. In addition to studying emerging projects, marketers generate tweets based on cryptocurrency analysis, just like traders and analysts.
Some opinion leaders generate advertising posts for money and monetize trusting audiences, so be cautious.
CT is an excellent place to discover and share trade ideas. For example, the functionality allows you to use hashtags (#Bitcoin) or the dollar symbol along with the asset ticker ($BTC) to find graphs, analytics, and opinions about a specific project.
Twitter has a wide range of applications in the crypto industry and can be used for obtaining information and informing others. As crypto Twitter users, we can, therefore, be divided into two groups with our own interests and tasks.
We are subscribers. We follow accounts to receive information directly from the source. We also follow subscribers to accounts or projects that interest us, as it is a strong signal if a top-tier fund has subscribed to a project of interest. We analyze the information we receive, ask questions, and respond to tweets.

We are authors who create content, develop Twitter accounts, participate in AirDrops, whitelist projects, and become influencers in the crypto space.
While subscribing to a project's Twitter account to stay informed about project updates is a personal business, as everyone chooses which projects to invest in and follow, there are some general news resources that could benefit a wide audience. Therefore, the following is a list of the main news sources useful for tracking news about cryptocurrencies and blockchain:
CoinDesk (@CoinDesk)

Cointelegraph (@Cointelegraph)

CryptoSlate (@CryptoSlate)

The Block (@TheBlock__)

Decrypt (@decryptmedia)

Bitcoin Magazine (@BitcoinMagazine)

Brave New Coin (@bravenewcoin)

Crypto Briefing (@Crypto_Briefing)

NewsBTC (@newsbtc)

CryptoPotato (@Crypto_Potato)
Twitter Crypto Influencers
Number of subscribers: 659,300

Who: The founder of the crypto exchange ShapeShift
Eric Voorhees shares his opinions on Twitter about market news. He believes that the current financial system has significant systemic problems that cryptocurrency can solve. Most of his savings are stored in Bitcoin. His company, ShapeShift, was accused of money laundering, but Voorhees himself believes that such "accidents" are inevitable in the emerging industry.
Number of subscribers: 1,600,000

Who: Co-founder of Morgan Creek Digital, an early Bitcoin investor, and one of the most prominent figures in the industry
Anthony Pompliano has made a name for himself speaking at crypto conferences and appearing on television shows as a cryptocurrency expert. He is one of the most renowned blockchain advocates in the world. Even now, he remains optimistic and believes Bitcoin will become the world's reserve currency. On Twitter, he shares his opinions on market developments and discusses decentralization benefits. He is also the host of one of the most popular cryptocurrency podcasts, Off the Chain.
Number of subscribers: 436,400

Who: Anonymous crypto sleuth
ZachXBT is an anonymous Twitter user and crypto trader renowned for exposing NFT projects, and influencer rug pulls. This investigator first joined Twitter in 2015. However, their pro-bono Web3 detective career started in May 2021 when they spotted the first NFT scams.
His blog is appreciated by NFT newbies, crypto investors, and iconic figures in the space too. Even one of the best-selling NFT artists worldwide, Beeple, has dedicated an NFT artwork to ZachXBT.
Number of subscribers: 347,200

Who: Cryptographer, developer, and the "godfather" of Bitcoin
Nick Szabo was involved in cryptography in the 90s. He introduced the concept of cryptocurrency and smart contracts. Although he has repeatedly denied this, Szabo is one of the most likely candidates for Satoshi Nakamoto. On Twitter, he shares his opinions on blockchain future and crypto projects.
Number of subscribers: 532,400

Who: A crypto enthusiast, an early bitcoin investor, and the founder of Heisenberg Capital's crypto fund
Max Keiser is a self-proclaimed Twitter poet. He is a charismatic speaker and Bitcoin advocate, who purchased it for $1. In 2011, he founded his venture capital fund, Heisenberg Capital, specializing in cryptocurrency projects. On Twitter, Keiser often shares his theories about how Bitcoin and other cryptocurrencies absorb economic activity from traditional markets. He predicts market prices. Recently, his enthusiasm for Twitter has subsided, but he still appears on his show.
Number of subscribers: 445,400

Who: Former developer at BitGo, co-founder and technical director of Casa, founder of Bitcoinsig.com, and creator of Statoshi.info
Jameson Lopp is one of the most prominent Bitcoin developers with an impressive track record. He loves to share his knowledge with others, speaks at every opportunity, participates in interviews, and presents at conferences. On Twitter, he responds actively to crypto market news and provides detailed analysis of technical aspects of various projects. Everything that cannot be compressed into tweets, Lopp writes about in a blog on his website.
Number of subscribers: 322,000

Who: Crypto enthusiast, Bitcoin Core developer
A cheerful Bitcoin preacher dedicated to decentralization. Without tiring, Song gives examples of how cryptocurrencies solve the problems of the existing financial system. He proves that blockchain is the time to switch. He keeps his faith in the crypto world of the future, but his tweets contain technical reviews, insider information, and Song's social media personality. When you subscribe, look at his YouTube channel "Off Chain with Jimmy Song."
Number of subscribers: 224,800

Who: Blockchain expert, analyst, and co-founder of Blocktower Capital
Ari Paul is the financial director and co-founder of Blocktower Capital, an investment company. He writes about crypto market problems and regulation, emphasizing the legal and regulatory aspects of the industry. However, he predicted Bitcoin would cost $50 000 by 2018 - perhaps he is not the most qualified investment adviser.
Twitter Lists
One of Crypto Twitter's most useful features is Twitter Lists. Twitter lists are curated groups of Twitter accounts that users can group by topic, person, or what they like.
Especially for you, we have prepared a selection of author caste lists structured in various areas of the crypto market:
NFT Influencers
On the network, we found convenient Twitter lists from NFT influencers, which we put together with some interesting NFT-related accounts themselves.
Services for Twitter
Analysis of projects' social activity is the most critical stage in deciding to purchase a particular project. Regarding NFT projects, 90% of success depends on marketing. 
Conclusion
With the above-mentioned list of services and tricks for Crypto Twitter, you can continue your journey on the social network and gradually expand as you find other users.