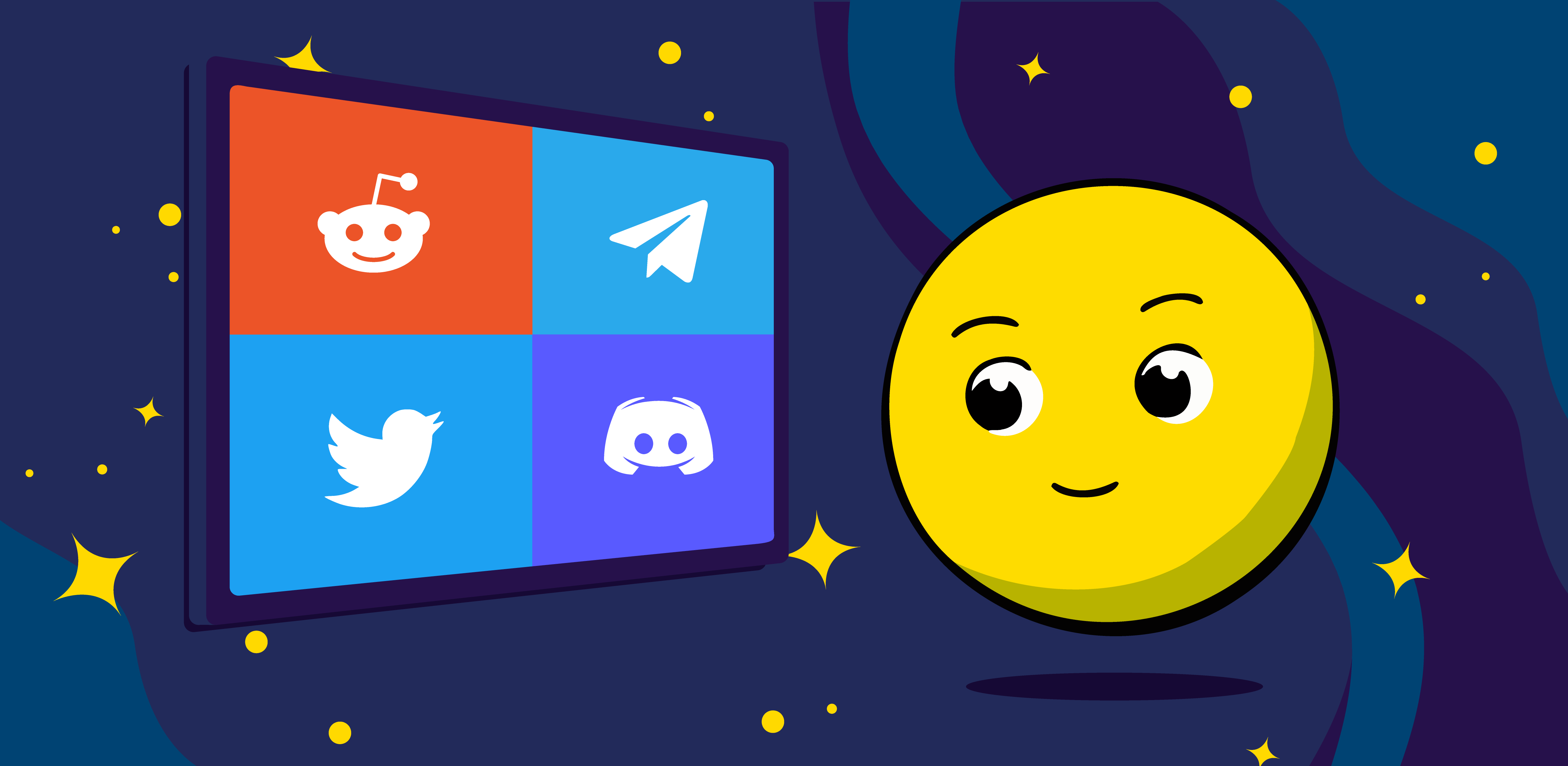 There are many crypto communities on the Internet where people communicate on the topic of cryptocurrencies. There are so many that it is sometimes difficult to find really useful sites.
Therefore, we have made a selection of crypto communities where crypto-enthusiasts can get new knowledge, tell about their experience and find like-minded people.
Note that nothing in this article should be interpreted as trading advice. Neither do we necessarily agree with the opinions of the personalities and members of the communities mentioned below: we just think that discussions make the crypto world more vibrant and interesting.
Reddit Cryptocurrency Boards
The Reddit platform is built on discussion, allowing subreddit participants to benefit from the knowledge of more experienced participants. In addition, Reddit's boost and downgrade feature can help you distinguish useful information from harmful.
Subreddits are small communities dedicated to a specific topic in the Reddit ecosystem. This has made Reddit a great tool for the fast-growing diverse crypto industry, where topics covering all aspects of cryptocurrency are discussed.
Here is our selection of the 10 most popular subreddits for crypto enthusiasts in 2022.
Crypto News & Discussion
If you are looking for a reddit board with crypto news, the chances are good that you will find it in the Cryptocurrency News & Discussion community. With over 4.9 million members, it is the single largest crypto reddit.
This subreddit is home to thousands of active users who are constantly sharing their opinions, analysis, and thoughts on a wide range of coins, tokens, and blockchain developments.
Bitcoin for Beginners
This bitcoin reddit is one of the best places for beginners who are not familiar with Bitcoin and cryptocurrency in general yet. There are posts dedicated to teaching newcomers how crypto and blockchain technologies work, their future use, and the best ways to trade. The guides described in this subreddit are not limited to bitcoin and include the most popular altcoins.
CryptoMarkets
This is one of the best subreddits dedicated to crypto trading and market analysis. The participants also offer excellent information about cryptocurrency exchanges and various applications that will help you better analyze the market.
Crypto General
Although the name implies that this subreddit discusses general cryptocurrency topics, the emphasis is on high-quality, in-depth reviews on topics in various crypto areas.
Altcoin
If you want to learn about any cryptocurrency other than bitcoin, then the Altcoin subreddit is for you. The discussions are based on news, trends, market indicators, and forecasts regarding cryptocurrencies such as Ethereum, Cardano, and BNB, as well as recently launched altcoins.
DeFi
The revolutionization of traditional financial services has made decentralized finance one of the most discussed crypto topics. This crypto subreddit is dedicated to informing you about all the developments in the DeFi ecosystem and how to use DeFi protocols.
ICOCrypto
Discussion of new crypto projects that are about to be launched through initial coin offerings (ICO), mass sales, and token sales.
Cryptocurrency Technology Focused Discussions
This subreddit with more than 331 thousand participants is dedicated to serious technical discussions discussions about cryptocurrency and the underlying blockchain technology. Unlike most other similar subreddits, there are no discussions of cryptocurrency prices, market indicators, advertising content, or memes.
Crypto Moonshots
If you want to find a crypto project that is about to make a quantum leap in its market capitalization, then you should visit this subreddit. Discussions are centered around the analysis of cryptocurrencies with low market capitalization and growth potential. It became a fan favorite, garnering more than 1.6 million subscribers.
Bitcoin
One of the oldest crypto-subreddits dedicated to the pioneer cryptocurrency closes the list. Since 2010, this community has focused on everything related to Bitcoin, from news to opinions, trading guides, and memes.
Telegram Crypto-groups
Subscribing to telegram channels is an easy way to keep up to date with the news, be the first to learn about all events, and receive trading signals and forecasts for digital assets on time.
Unfortunately, not all Internet resources are equally effective, and the topic of cryptocurrency has always attracted scammers due to a large number of new, inexperienced users.
Beware of "signals" and channels that seek to make money on their subscribers, promising profit. No one will give you the "secret of success" because there is none.
Below is a selection of telegram channels about cryptocurrency.
"Flagship Funds | Investments"
The author's channel of a Swiss investment fund specializing in decentralized finance and NFT. The channel tells in detail about the latest trends in the cryptocurrency market, NFT, DeFi, and initial placements (IDO/IFO).
The channel's authors are recognized experts with many years of experience in the largest investment banks and funds. All information is presented in a structured form and is easy to understand. On the channel, you can get acquainted with reviews of transactions, analytics of initial placements, and investment ideas.
"Altcoin & Bitcoin Trading"
Telegram channel about cryptocurrencies, specializing in technical analysis of the market, current news of the blockchain industry, as well as investment signals.
"Rocket Wallet Signals"
Telegram channel about trading. Its authors publish cryptocurrency signals daily and assess the current market situation. There is a lot of information that appears faster than in the media. Rocket Wallet Signals can automatically execute cryptocurrency signals via a trading bot.
The project will be useful for both novice traders and professionals. The authors of the channel give important explanations of the signals and regularly share the results of their work.
Discord
Cryptohub
A great channel for those who have just started their journey in the world of cryptocurrency. Here beginners can get basic knowledge and direction for further development.
r/CryptoCurrency
This discord is the channel of the largest cryptocurrency subreddit, where there are subchannels about almost everything: trading, DeFi, NFT, farming, altcoins, mining, and whale transactions!
Larva Labs
Larva Labs is the largest Discord NFT server created for discussing where you can buy and sell NFTs and get updates on what is happening in the crypto world around them.
Spacestation
Although the server was created as a community in which Ethereum miners communicated, now some subchannels cover almost all the main topics related to cryptocurrency.
Twitter
Personalities
Vitalik Buterin (@VitalikButerin). The creator of the Ethereum blockchain, on which the entire sphere of DeFi and NFT sits tightly. An impressive (albeit eccentric) leader of the Ethereum community and an authority on the crypt.
Barry Silbert (@BarrySilbert). CEO of Digital Currency Group and Grayscale, the largest regulated crypto company that creates "traditional" financial instruments based on crypto.
Gavin Wood (@gavofyork). One of the main startupers in the crypt. Participated in the founding of Ethereum, Kusama Network, Parity Company, and the Web3 Foundation. He also became the founder of Polkadot and now writes mainly about it and the direction of Web3.
Mike Winkelmann (@beeple). One of the most famous NFT artists of our time hails from the USA, known to many under the pseudonym Beeple. Paves the way for art in the fields of VR and AR, which in the future will have a great impact on the development of metaverses.
Rekt Capital (@rektcapital). A trader who supports his forecasts about price trends with high-quality charts.
Andreas Antonopoulos (@aantonop). Economist and author of bestsellers about crypto, bitcoin, and the global economy: "Mastering Bitcoin", "Mastering Ethereum" and "The Internet of Money".
Brian Armstrong (@brian_armstrong). Founder and CEO of Coinbase. After it went public in the US in 2021, Coinbase became the most expensive crypto company in the world. Coinbase is the most popular crypto trading platform in the United States, and the company also operates in dozens of other countries.
Cryptomedia
Bloomberg Crypto (@crypto),
CoinDesk (@CoinDesk),
The Block (@TheBlock__),
Cointelegraph (@Cointelegraph),
Decrypt (@decryptmedia),
Bitcoin Magazine (@BitcoinMagazine).
On-chain analytics platforms
Messari (@MessariCrypto),
Glassnode (@glassnode),
Santiment (@santimentfeed),
CryptoQuant (@cryptoquant_com),
CoinMarketCap (@CoinMarketCap),
CoinGecko (@coingecko),
Dapp Radar (@DappRadar),
DeFi Pulse (@defipulse),
Whale Alert (@whale_alert).
Market news and analytics
Income Sharks (@IncomeSharks),
Bankless (@BanklessHQ),
Bitcoin News (@BTCTN),
Altcoin Daily (@AltcoinDailyio),
Real Vision (@RealVision),
Bitcoin Archive (@BTC_Archive),
Documenting Bitcoin (@DocumentingBTC).
Investment funds and investments
Paradigm (@paradigm),
Pantera Capital (@PanteraCapital),
Blockworks (@Blockworks_).
---