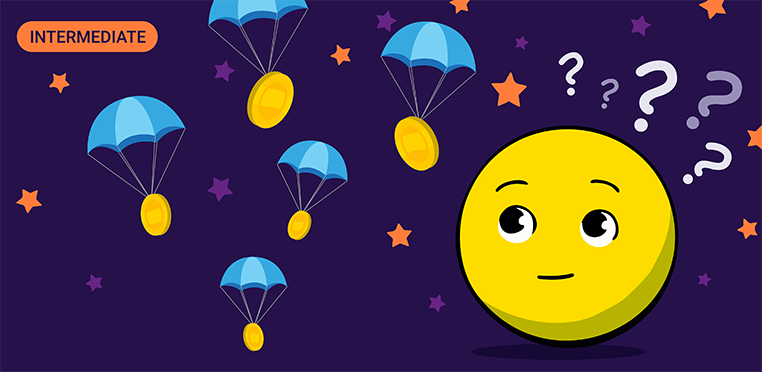 The term "airdrop" means the free distribution of tokens. Sometimes they go to the owners of certain coins for their storage in crypto shelves, but more often the distribution of currency occurs as a reward for subscriptions to blockchain project accounts in social networks, retweets, and other simple actions. Users who want to make a profit are only required to spend a little time.
Cryptocurrency airdrop is held to attract the attention of a large number of users by the time the new product is released. Project developers integrate coins into the internal ecosystem and need to advertise their startup. The process is comparable to issuing a free sample product to search for new customers and form a community of primary users.
A few years ago, social networks (Facebook, Twitter, YouTube, and others) banned paid advertising and the promotion of digital assets (cryptocurrencies). As a result, airdrops gained popularity as a marketing solution with blockchain startups.
What You Need to Get Coins
To get cryptocurrency, the user does not need to perform any complex actions. You must have an account in the blockchain payment system on which the project will issue a token. If coins of the ERC-20 or BEP-20 standard are distributed, then you need a wallet that supports Ethereum or Binance Chain networks, respectively.
Sometimes you need to complete a small report to automatically monitor your activity. As a rule, a member of an airdrop needs to specify details for receiving coins and links to accounts on social networks.
Airdrop Types
There are 2 types of airdrops: 
In some cases, users are required to perform simple actions;
in others - it is enough to store coins in a wallet or on an exchange.
To participate in the distribution of tokens, you might be required to:
Subscribe to the social networks of the project.
Make a repost in your account.
Leave a comment under the product video, for example, under the overview on YouTube.
Answer a few questions about cryptocurrency in the questionnaire.
It usually takes up to 5-10 minutes to do everything.
Next, it will be proposed to fill out a Google form or report in a telegram bot indicating a link to their social networks accounts, as well as the address of the cryptocurrency wallet to which the developers will send coins.
This kind of airdrop implies that no action is required from the user. Such distributions are provided for the owners of other popular cryptocurrencies, for example, Ethereum, Tron, or Binance Coin. Airdrop Symbol was similarly conducted for NEM holders in March 2021. Recently, airdrop has become common for exchange token holders.
To receive a new type of cryptocurrency, the user needs to have a certain number of coins on the balance of the wallet by the right time. Next, a snapshot is taken - a snapshot of the status of all participants in the announced project. At the specified time, tokens are sent from the startup.
Income from Participation in Airdrops
The profit from one Airdrop directly depends on the success of the project and the popularity of altcoin after appearing on trading platforms. Often it happens that the coin does not even go to the exchange, it cannot be sold and fixed with a profile.
According to statistics, for participating in one airdrop, you earn about $5-20.
In the past, there were many examples of successful handouts with benefits for both parties - the creators of the project and primary users. Participants in the advertising campaign were subsequently able to exchange free tokens for several thousand dollars, although this does not happen often.
Examples of Advantageous Airdrops
The most sensational airdrop of recent times is the distribution of free UNI tokens from the decentralized exchange service Uniswap. This exchange sent coins to platform users who made at least one transaction using the site until September 1, 2020.
Each wallet received 400 UNI, and liquidity providers had the opportunity to earn up to 1000 UNI tokens.
When cryptocurrency appeared on exchanges, in the first week it was possible to get from $3 to $7 for 1 UNI. Participants could record a profit of approximately $1200-2000. In May 2020, the value of the UNI coin exceeded $40. Assets received for one Airdrop at some point reached a value of approximately $16 000. The decentralized exchange 1inch Exchange conducted similar profitability of airdrop.
In 2017-2018, participants in crypto airdrops often earned hundreds or even thousands of dollars on tokens, since many of them artificially increased in price by the efforts of traders (in jargon it is called "dumped") and could show a result in the 10,000-20,000% of profit for several months. An example is the Stratis project or a lot of NFT airprops.
Where to Look for Distribution
There are several ways to find new current cryptocurrency airdrops in 2023:
Bitcointalk. This is the most famous forum about altcoins, which appeared in 2009. Every day, tens of thousands of users, including investors, traders, developers, entrepreneurs, and ordinary users, communicate and share information.
Social networks - Twitter, Slack, and Discord. The developing project necessarily creates pages on several social networks and posts up-to-date information about bounty programs and airdrops.
Messengers - a lot of useful data on the topic of free handouts can be found in Telegram, in which there are various channels, chats, and bots on cryptocurrency topics.
If you enter the hashtag # airdrop in the Twitter search string, then many accounts regularly update the list of current handouts.
These are sites that study new projects and host information about future free programs, as well as many other useful data about coins that are being prepared for release. Airdrops are often held on well-known trading platforms.
In search of handouts, you should visit the best exchanges: Binance, Huobi, Coinbase, and others. On these platforms, there are special sections in which you can find a profitable and simple crypt airdrop for participation.
To search for handouts of tokens that have already entered the market, it is recommended to go to the popular Coinmarketcap service: in 2020, the Earn section appeared.
Users of the resource have the opportunity to get coins by visiting the project page and viewing short videos, as well as answering questions about the new cryptocurrency. You can find out about the current and upcoming free distributions of coins in the news feed on the site or through accounts on the social networks of a particular project.
How Do Airdrops Work?
Airdrops are carried out with simple conditions for users. Project developers specify specific dates when you can participate in the distribution. At the end of the campaign, they manually or automatically send free coins to the addresses of users' wallets.
When Tokens are Handed Out
You should not expect a profit in the first 5 minutes. The distribution of free crypto assets does not imply instant earnings of tokens and their sale on the same day on the exchange.
It will be possible to record profit from the airdrop no earlier than a few weeks or months after the conditions are met.
First, you will have to wait for the developers to send what they promised. Next, you need to find information about the listing of the coin (in case it is not already presented on CEX or DEX crypto exchanges).
How to Select the Project?
This should be approached especially carefully. Not every airdrop will bring benefits and earnings. There are many fraudulent companies on the Internet, as well as blockchain startups that do not bear any value. It makes no sense to participate in all distributions in a row because often fulfilling the conditions will not bring profit.
When choosing airdrop cryptocurrencies, it is important to pay attention to the product website and the development team.
You should beware of lendings with a "crust" design and creators about whom there is no information on the Internet. You need to make sure that the project has Whitepaper. If there is no such document, then the team has not bothered with the concept of the business and aims to profit from trusting investors.
An important reference point is the accounts of the startup and developers on social networks.
If a Facebook page or blog in Medium was created a couple of days ago, only 2-3 posts were posted on Twitter, and in the Telegram chat a hundred people - it is better to bypass such a project.
Possible Risks
Participating in crypto airdrops, there is practically nothing to fear. The main risk is the loss of time. In addition, you need to try not to fall into the trap of scammers.
Fraudsters under the pretext of distributing tokens may try to seize confidential information.
At best, it will be a full name and email address, and at worst, a trusted user can steal access to the wallet and assign cryptocurrency assets. If the project is good and the distribution is honest, then the participant will not be required to give any personal data, and there is nothing to be afraid of.
Advantages and Disadvantages
To earn on cryptocurrencies in this way, it's not required to have any knowledge or skills. It is enough to spend a little time performing tasks on social networks, for which you can get new coins on your account. Some handouts bring hundreds or even thousands of dollars to participants.
Among the disadvantages is the existence of a huge number of fraudsters who will try to seize personal data and steal money. It happens that new projects do not collect the necessary amount of funds during the ICO, and the product remains unrealized. This means that time will be wasted, and the promised tokens will not cost anything.