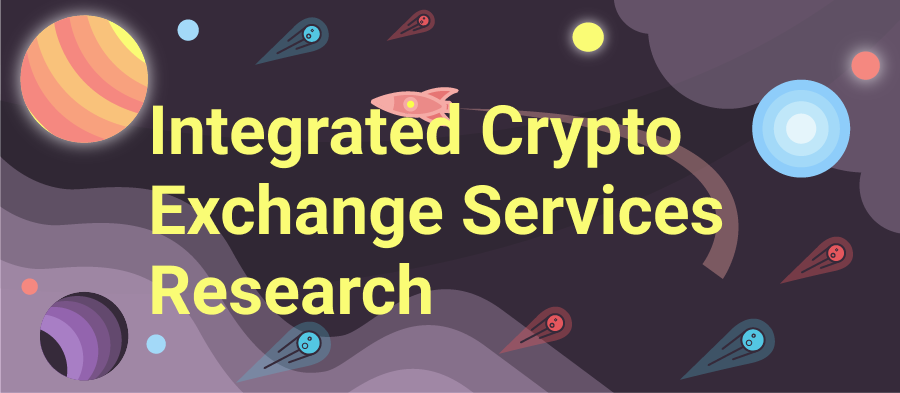 What is the best service integrated into SwapSpace?
SwapSpace is a cryptocurrency exchange aggregator that integrates several swap services.
You would no longer spend time looking for the most convenient exchanger matching your demands – we have already done it for you!
Just choose the most profitable rate from the list we offer. Be sure, we appreciate your time, that's why we've developed a simple service that includes more than 300 currencies, user-friendly UI, no limits, and no entering personal data.
Our team's main goal is your ability to make exchanges fast and easily like buying a bottle of water.
We gathered the rates from the major exchange services and compared them by key indicators, including currency rates, availability of cryptocurrency and fiat money, fee percent, UI usability, and much more. So you may just choose the most suitable from the list below. At the initial stage, we've included Changelly, ChangeNOW, Flyp.me, Godex, and SimpleSwap.
In addition, if you still have any issues, our support team is always ready to help you.
Key selection indicators for integrated services
Support
All of these services possess quite helpful sections of FAQ and 24/7 support. Besides, Changelly has such useful pages as a helpdesk, crash course, and a blog where you may find some interesting information. ChangeNOW's support includes help center, the guide for newcomers, the article «Crypto Basics» and form to contact their support service – just submit the form, they answer within an hour. SimpleSwap's support team answers your question within 10 minutes. In addition, there are a number of educational articles. Godex and Changelly have live chat at the main page of the websites and respond instantly. Flyp.me has the most useful FAQ. It is worth noting that SwapSpace has a dedicated support line for each service, so it speeds the process of issues solving.
Affiliate program
Changelly's Affiliate program consists of API, section "For partners" including offers for tokens, wallets, exchanges, services; the form to get details and requirements for listing. Flyp.me possess API only. SimpleSwap offers to its partners 90% of fees for each transaction using referral links, widgets, and API. ChangeNOW's section "For partners" includes Referral program, Widget & Buttons, Development API, and partners profile with a special part for wallets. Godex has API, referral links, widgets, page "For partners", different for personal and business. Also, it includes sections for services, wallets, coins, rate trackers and partners which they've already collaborated with.
UI usability
All of these services have a well-designed interface. SimpleSwap has the simplest interface. Sometimes background images do not load fast enough, but it does not interfere with the service itself. Godex has user-friendly UI as well as Flyp.me – you'll probably like to use it. Changelly and ChangeNOW services are localized to many languages and let you choose the language. Also, they've developed mobile apps to be the most approachable for you.
Registration requirement
SimpleSwap, Godex, and Flyp.me are anonymous registration-free exchangers. ChangeNOW doesn't require your personal data and account creation, except for particular cases. They use an automated risk management system for checking transactions. According to European AML directives, KYC regulations, and platform requirements, ChangeNOW could ask you to show your ID document scan or some extra information. Changelly uses AML/KYC, that's why you need to register.
Number of cryptocurrencies and tokens
All the integrated services provide a wide range of cryptocurrencies as well as tokens for the exchanges. At Flyp.me you can find 30+ coins. Changelly has more than 150 cryptocurrencies, ChangeNOW possesses 170+ and has its own token NOW. Godex contains 210+. And the biggest number of coins is at SimpleSwap, it includes 300+.
Cryptocurrency exchange rates
Flyp.me and Godex have a fixed rate only. Changelly's rate is float. At SimpleSwap and ChangeNOW rates are different and you can choose it on your own. Fixed rate means that you will receive exactly the amount you see on the screen while creating the exchange. Such a way contains no risks. Floating exchange rate is set when the funds are transferred to our wallet for the exchange. If the market goes up, you will receive more cryptocurrency, if down – less.
Availability of fiat
Fiat is supported at ChangeNOW service. Changelly is also supporting fiat transactions, but it's processed by partners. Flyp.me, SimpleSwap and Godex support cryptocurrencies and tokens only. 
Fees
Flyp.me has a fixed fee percent. It's always 0.5% per transaction. Changelly takes 5% per fiat transaction and 0.25% per crypto-to-crypto. Fees at Godex varies from 0.5% to 1.5%. ChangeNOW and SimpleSwap's commission is floating and the amount estimates.
Minimum and maximum amounts for exchange
Minimum and maximum amounts at Flyp.me are different for each coin and are displayed at the exchange form. All of the other exchange services don't have set amount restrictions, but the amount should cover the network fee. It's limitless, so you can exchanges as many currencies as you need to.
So, we have lined up the most important information about exchangers. There are no bad services, just choose the most suitable rate for you at SwapSpace and make exchange comfortably.