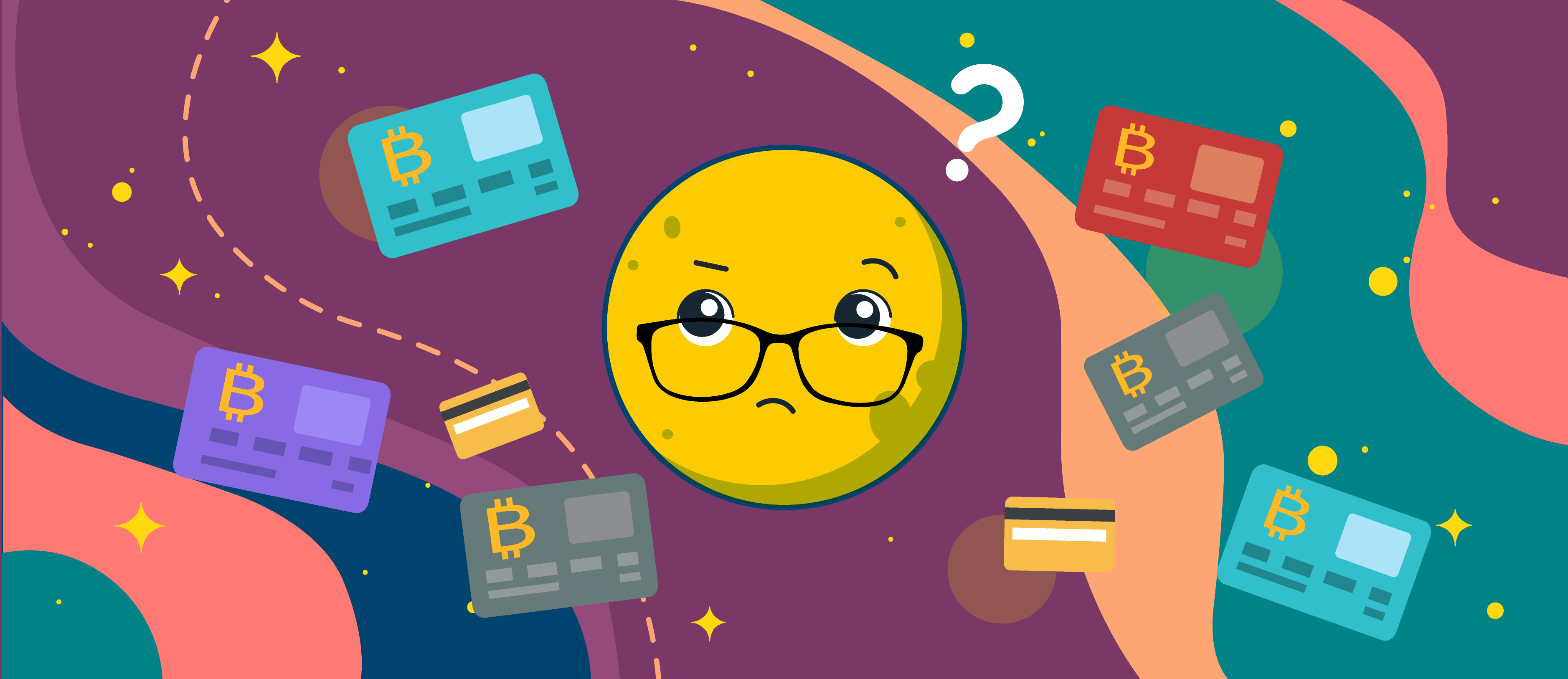 An overwhelming number of businesses worldwide currently accept debit cards as a means of payment. Unfortunately, that's not the same for cryptocurrency payments, which are still fighting their way to be accepted by merchants. A Bitcoin debit card, however, will allow you to use the extensive platform of companies like VISA and MasterCard to proceed with payments in both crypto and fiat currencies, which is a smooth way to bring a great deal of liquidity into your cryptos.
How do you choose a Bitcoin debit card?
There are certain things to take into account when deciding which of all the options suits you best. We've made a quick checklist so you can see if your bitcoin debit card matches these requirements:
Location – You want to make sure that the card is supported in your region by an established debit card provider who keeps up to date with the current legislation.
User experience – An ideal crypto debit card should provide you with a great customer support team to make sure everything runs nicely and steadily. Also think about spending limits, insights in your payment history and overall user experience.
Security – You should expect up-to-date encryption systems, as well as two-step authentication processes, e-mail or SMS verification and biometric recognition procedures.
Reliability – You have to be able to trust the party. They handle your money, so you should be able to trust them. When you see a collaboration with an established company like MasterCard or VISA, you can expect the company is reliable.
Fees – The debit card has to have a reasonable price. Make sure to read all the benefits the different providers offer, as you may get discounts or rewards like cashback programs.
Top 4 Bitcoin debit cards in 2021 
4. Wirex
Supporting currencies like BTC, ETH, LTC, EUR, USD and GBP, Wirex is the most popular platform in the European continent. Real-time transparent exchange rates are shown when intending to swap crypto and it comes with its own IBAN under your name. Every time a purchase is made with the card, you get a 0.5% cashback, which you can bring up to 1.5% if you hold Wirex tokens. They charge a monthly fee of 1.20€/£1.00/$1.50, whereas ATM withdrawal fees are at 2.25€/£1.75/$2.50 within Europe. Daily top-ups are limited to 5000 €/£/$.
3. Revolut
Available in all of the EEA, Switzerland, and Australia, Revolut is currently one of the best options for cryptocurrency debit cards. With this successful British FinTech phenomenon, you can instantly exchange 30 different fiat currencies into BTC, ETH, LTC, BCH and XRP at real-time rates under the paid subscription plan of 7.99€/£6.99 per month. With or without the subscription, you can withdraw up to £200/month from any ATM of the world for free, and anything over that at a 2% fee. Among other incentives, one can find free overseas medical insurance, British and European IBAN accounts and delayed flight and delayed baggage insurance.
2. Cryptopay
Based in the UK, Cryptopay allows users to order EUR, USD, GBP, BTC and many more with no fees for the exchange. There is, however, a 15€/£/$ delivery fee for the plastic card and a 2.50€/£/$ for the virtual one. Monthly service fees are at 1€/$/£, whereas ATM withdrawals get a charge of 2.25€/£1.75/$2.50. Users can get verified through a two-tier process, giving them access to 10x more the amounts of top-ups and 20x more the amount of the maximum daily load, among other features. Otherwise, virtual cardholders are restricted to making 1000€/£800/$1000 worth of purchases a month.
1. MCO Visa from Crypto.com
This is probably the best option for frequent travelers or anyone interested in using a wide variety of currencies, among which one can find EUR, USD, GBP, AUD, JPY and HKD, as well as BTC, ETH, BNB, LTC, XRP and MCO. It only operates in Singapore and the USA as of now, but they plan to expand to the EU and Canada in the future. There are no delivery, ATM withdrawal, monthly, annual or overseas transaction fees in any of their products whatsoever. They offer 5 different cards with different cashback programs, from 1% to 5% cashback on general purchases, access to LoungeKey airport lounges and up to 100% cashback on Netflix and Spotify. The catch? You have to purchase between 50 and 50.000 MCO tokens and stake them for at least 6 months to get any of the rewards. There is a free option that gives you a 1% cashback as the only incentive with no need to stake MCO tokens at all.