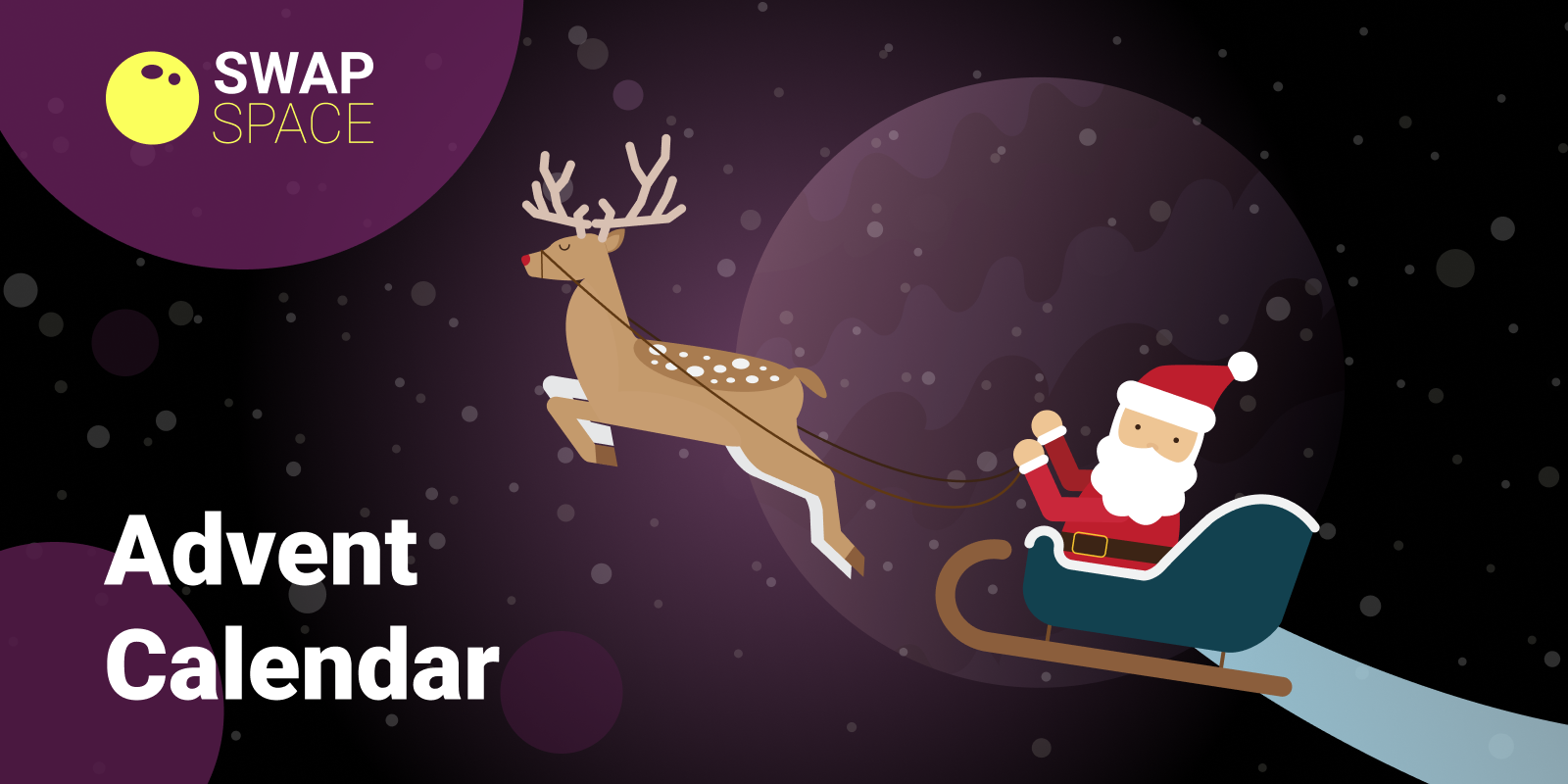 The advent calendar by SwapSpace exchange aggregator features everyday Christmas giveaways, airdrops and crypto collectibles to cater to all crypto lovers. 
Key Takeaways
SwapSpace exchange aggregator has announced a virtual advent calendar with prizes to be won every day from December 1 up to Christmas Eve
To be eligible to participate, the players just need to open a card every day – as simple as that
It's free to enter, free to play, and offers the chance to win some gifts in crypto
The countdown to Christmas is eventually on! To feel the holiday spirit, SwapSpace exchange aggregator has started the countdown with special gifts for crypto fans. The SwapSpace's Advent Calendar has started on the 1st of December and is now ready to spread fun, anticipation and good cheer heading into the holiday season.Behind each of the calendar's 24 windows is a special prize in form of various cryptocurrencies, or a chance to take part in a raffle for a CryptoKitty. How does it work?
Go to the Cryptocurrency Advent Calendar page;
Check what day it is and open today's card. You cannot open the previous or future days cards;
Follow the instructions: play a game, provide your wallet address or Twitter username;
Enjoy your gifts!
For most of the prizes, you will need to play the game by picking one cell out of 100. The amount of coins you'll get is up to your fortune. All the cell sequences are encrypted with the SHA256 algorithm so you could choose that the sequence is true and the lucky cells weren't replaced.The Advent Calendar can be opened from December, 1st, till the last prize on Christmas Eve on December, 24th. The calendar works on your local time: you can open the second card until it's the 2nd of December in your time zone. The prizes will be delivered in the next days after you open the cards.
Prizes Up For Grabs
SwapSpace's Christmas presents are surprisingly diverse and universal. To name just a few, they include Nimiq, Electroneum and DOGE airdrops, NavCoin giveaway, CryptoKitties giveaways, and much more trophies for any taste. December 1 – Nimiq Airdrop
December 2 – CryptoKitty Giveaway
December 3 – Electroneum Airdrop
December 4 – NavCoin Giveaway
December 5 – CryptoKitty Giveaway
December 6 – Dogecoin Airdrop
...Join the festive to learn more!
About SwapSpace
SwapSpace is a rapidly growing instant crypto exchange that attracts customers with the availability of rare coins, reliable support, and fast and easy transactions. It operates on the aggregator model, uniting the rates from the major and well-established cryptocurrency exchanges such as Changelly and SimpleSwap and young but promising instant exchanges winning with the lowest fees. It supports over 300 cryptocurrencies, adds no fees to the exchange rates provided by the integrated exchanges, and suits both novice and advanced users. It also attracts developers with its open API and Affiliate Program and bloggers with the opportunity to get crypto for videos about the exchange.