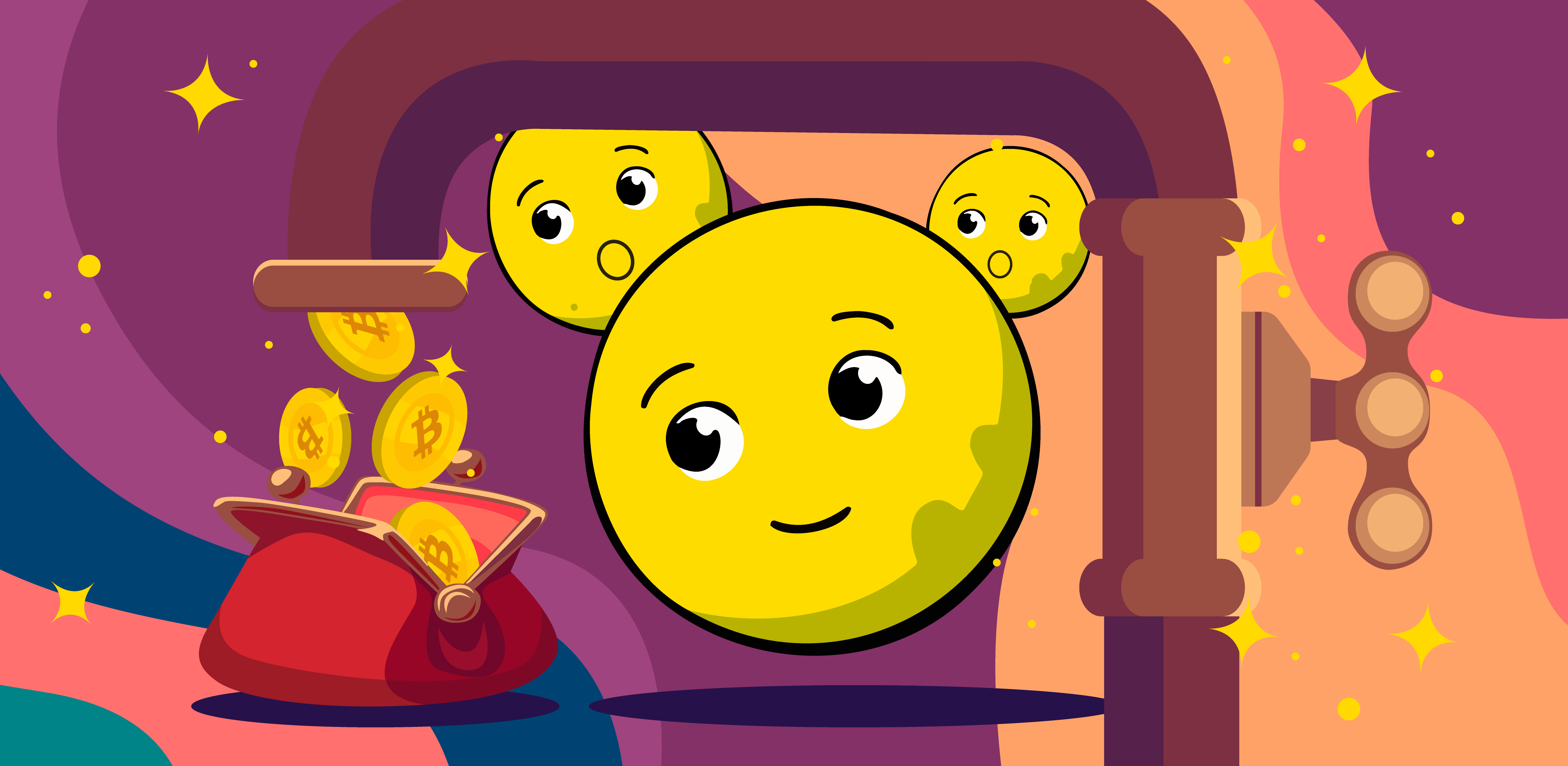 What is a Bitcoin Faucet?
Bitcoin Faucets are websites or apps where you can get a certain portion of BTC for free. In the past, when the main goal was promoting digital cryptocurrency among ordinary people, users could get up to 5 BTC for each claim. Nowadays, instead of Bitcoin, faucets give away Satoshi — its smallest indivisible unit equal to 1/100 millionth of BTC, for completing tasks ranging from playing games to watching ads or entering a captcha. It might not be clear from the get-go why there would be many websites giving crypto entirely for free, as it seems. Nowadays, these faucets collaborate with businesses and stay afloat as long as they make enough profit in ads. Since many people use such faucets and some of them can potentially be scams, find below a list of trustworthy Bitcoin faucets. 
Best Bitcoin faucets
Freebitcoin
This is probably the most well-known Bitcoin faucet and it has more than 42 million users. There's the traditional way of getting BTC when you get coins every now and then and the website also holds things like games, online casinos, and weekly lotteries. They even advertise winning a Lamborghini on the main page. The website claims that one can win up to the 200-dollar value of BTC playing the games or up to 1 BTC playing HI-LO. It's important to keep in mind that it's less likely to win the maximum amount offered and these big numbers are used as a way to attract users. The website says one can deposit coins with an interest rate of 4.08%. The referral program is quite generous since it guarantees the user about 50 percent of what their friends are winning on the platform, and it also shows the current price of BTC. The website has a premium version and its own token. Even though the website is famous, it resembles an online casino by design and has too many distractions. 
Cointiply
Founded in 2018, this faucet offers you to watch ads and videos, and play games. The website possesses loyalty and referral features, as well as expert support. Compared to the previous one, it has a more pleasant design and doesn't resemble a gimmick. It has almost 2 million users and is available on Google Play. Given that one can claim 200 Satoshi approximately every hour, one can withdraw 35 thousand Satoshi to a built-in wallet and 100 thousand directly to your Bitcoin wallet. This website is less generous in terms of the referral program since it only offers 25% for claims and 10% for the earnings. There's a loyalty program where under the condition that the user logs in daily, one can get up to 100% in bonuses. Once the user possesses 35 thousand coins, a 5% interest rate is guaranteed. The website also has a FAQ where one can find answers about the platform, as well as tips on how to use it more effectively. 
Firefaucet
What stands out for this particular platform is that it is multi-currency. If BTC is not necessarily your coin of choice, you can get Tether, Ethereum, Dogecoin, Litecoin, Dash, Tron, DigiByte, and ZCash on this website. It also has quite a minimalistic design which stands out from other ones where there are luring ads and such. It has a little bit more than 600 thousand users and the coins can be stored on the built-in wallet or your own without any fees. It claims it has the highest rates but one can't find any exact percentage on the main page. A nice feature is that the website has no pop-up ads.
Conclusion
Such faucets are suitable for beginners as a good way to acquire some cryptocurrency with little effort and no financial loss. Many of them require your wallet information and have referral programs where you get bonuses for inviting people to the platform. Since possessing BTC, even as little as such websites offer, is a dream for many, we advise you to be careful and use critical thinking when visiting such places. There's always a chance for the website to turn out to be a scam or use your personal information. If you feel hesitant about a certain website or an action it asks you to perform, do your research and read public reviews on it. Since some faucets use techniques similar to gambling, don't forget to be responsible for how you spend your time there. It's worth paying attention to the number of coins for each claim, how much you can withdraw and with which method, and how big the fees are. A good tactic is registering on multiple faucets, comparing them to each other, and multiplying your gains. It's also important to keep in mind that the terms and conditions of a particular Bitcoin faucet can change over time.
---