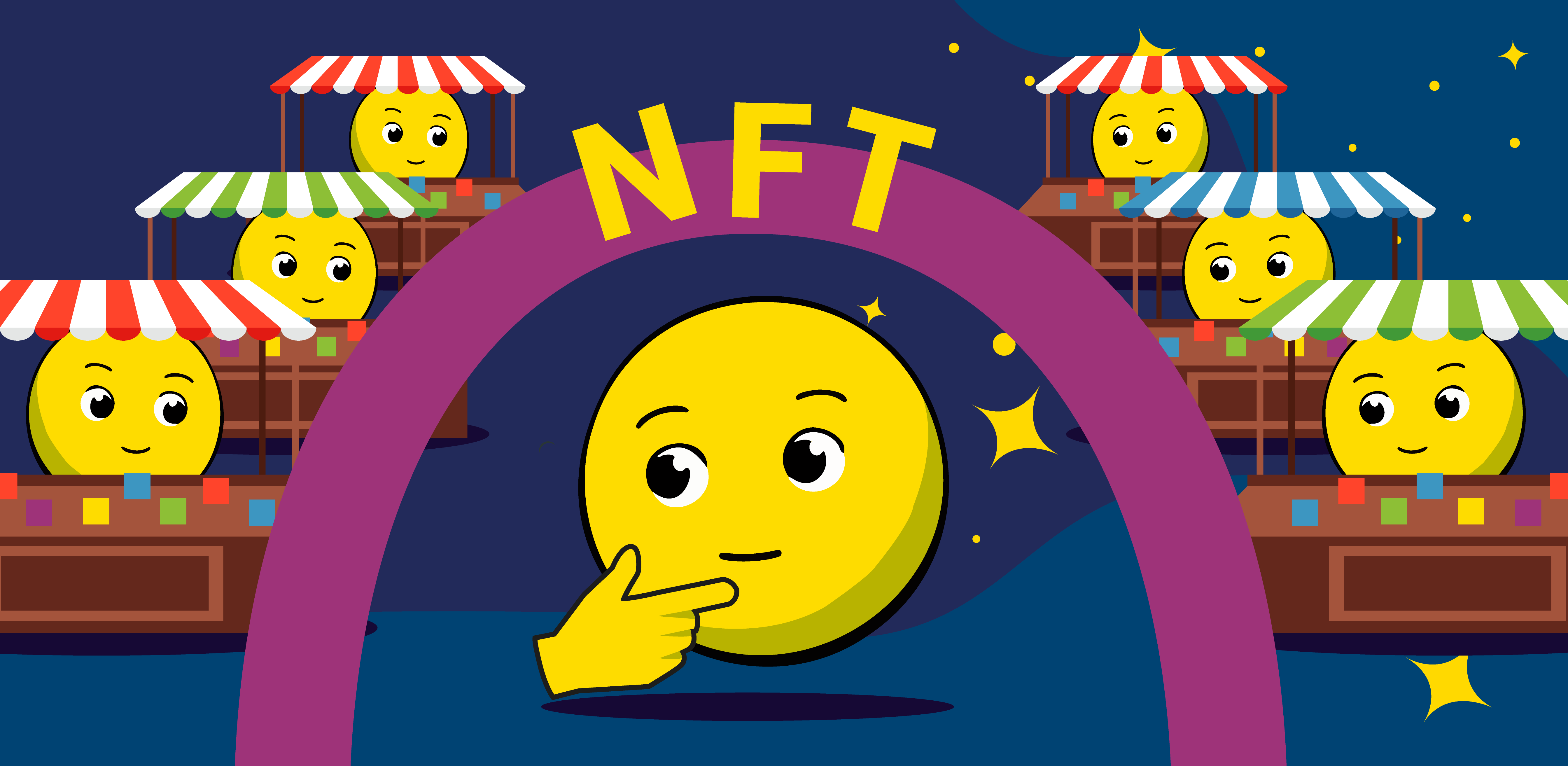 One of the main trends of today was the growth of the popularity of NFT (non-interchangeable, or non-fungible, tokens), as well as the surge of digital art in general. tell us where to buy NFT or sell it.
We will briefly go over the basic information about it first. NFT is a way of owning digital assets that can be represented in the form of a work of digital art, digital real estate, an artifact in a computer game, a domain name, and even a utility. All these assets - non-replaceable tokens - are unique, that is, they exist in a single copy and it is impossible to copy them.
NFT turnover occurs at special sites - NFT marketplaces. These are sites where unimaginable tokens are not only stored, but also bought, sold, and exchanged. On some platforms, you can even create NFT tokens online.
Today, there are several dozen NFT marketplaces. Some of them are general, that is, all types of digital assets are sold there, but there are platforms dedicated to specific, for example, only game tokens. Here, we'll make an overview of the best NFT marketplaces.
OpenSea
Marketplace OpenSea is one of the pioneers of the NFT trade. The largest NFT trading platform was founded in 2017 in New York and has since grown to $3-5 million in sales per day. It presents various digital assets - paintings by modern artists, domain names, game and sports cards, utilities, and even virtual territories. Registration on the site for the transaction is not required - it is enough to enter the site using the "wallet": MetaMask, Coinbase Wallet, or Opera Touch. The means of payment in OpenSea is cryptocurrency - the standard of the blockchain Ethereum ERC721 and ERC1155 is applied.
The exhibition of works on the site for sale is accompanied by several expenses. First, OpenSea takes a commission for "gas" - "minting" a token. Second, the transaction is also subject to a 2.5% fee. At the same time, the total amount that the seller will eventually pay depends on many factors, for example, the current demand for a particular asset in the network and even the time of day. Often, to sell an NFT, you need to pay about 70-100 US dollars. By the way, the buyer of the token is not charged a transaction fee.
Nifty Gateway
The main advantage of Nifty Gateway is the possibility of buying NFT for fiat money — in simple words, our usual dollars, euros, rubles, yuan, and other currencies. At the same time, sellers can withdraw funds directly to their credit or debit cards. True, so far only those who have accounts in American banks can do this. Other users will have to use the Gemini exchange.
Nifty Gateway allows you to place your collections for free, but for each sale of tokens a commission of 5% + 30 cents is held, and when they are re-sold, you will have to pay another 10%, which is paid to the creator of NFT. In other words, it is most profitable for content creators to work in this marketplace.
Foundation
The NFT Foundation Artists Platform is positioned as a platform working with alternative music and art. To be able to work with the service, you need to receive an invitation from one of the authors of the site. And although the marketplace loses to many competitors in our list in terms of trading volume, its main advantage is maximizing the reach of the target audience.
Like Nifty Gateway, this platform is great for content creators. It allows you to place tokens for free but takes a commission of 15% from their sale, and at each NFT resale, their author receives royalties of 10%. At the same time, the sale of tokens takes place in the format of an auction without a fixed price.
Mintable
Mintable marketplace continues our top of NFT marketplace websites list. Founded back in 2018 for trading NFT with very flexible configurations, it offers extensive opportunities for creators and collectors, including additional settings for promoting their work and managing royalties on tokens, which can reach 90%.
The platform is a fully decentralized system. It uses the Ethereum and Immutable X blockchains. The marketplace can work with ERC-721 tokens, and when using IMX, there will simply be no network commission. At the same time, creators and buyers have full rights to smart contracts. But the most interesting thing is that there is an opportunity to create your store and more effectively promote your work.
This one is an NFT platform with a trading volume of approximately $1.5 million per day. The project was created in 2020 in Moscow. The founding fathers of Rarible - Alex Salnikov and Alexei Falin - laid the foundation for the project their own RARI token. Mainly digital art is sold and bought here - about 20 thousand different artists and their collections are posted on the site. But there are also other objects - domain names, game cards, and so on. A distinctive feature of the site was that the authors of works receive remuneration for each resale of their work (they have intellectual property rights through Proof of Provenance). The platform takes a commission from the seller and buyer of the digital asset - 2.5% plus a fee for "gas," that is, minting a token. In total, as in the OpenSea, about 70-100 US dollars are obtained per sale. By the way, Rarible and OpenSea have a partnership agreement, therefore, by posting work on one of these sites, the author receives accounts on both sites.
This trading platform selling digital collectibles is currently not working at full strength (sales are half a million dollars per day), but recently its organizers have received serious investments for the development of the project. So this NFT platform "exhibits" a limited number of digital art, while, according to the creators of the site, those works are 100 percent unique. Several proven authors participate in the project, but anyone can apply for the inclusion of their work in the competition.
That is why the commission that the site charges for transactions are much higher than that of other sites of similar orientation. For example, the buyer is forced to pay 3 percent for the transaction, while the seller generally pays 15 percent! Plus the traditional gas commission. This is not all: when reselling an object of digital art, the author receives 10 percent of the cost of the work as royalty. The platform is also based on the Ethereum blockchain. To implement the transaction, registration on the site is required, as well as the binding of the crypto wallet MetaMask or Fortmatic.
Other Sites
In general, NFT trading floors have recently been growing like mushrooms after the rain. There is, for example, the platform of the American basketball league - NBA Top Shot. Its essence is that the site contains videos from past games in the form of sports collectible cards. There is a Foundation auction platform, which in its functionality can "expand" digital assets on social networks. True, to get to the site, you need to have an invitation from one of the authors registered there. 
By invitation, a platform such as Makers place also works. NFTs are also traded here for a wide audience, while it is possible to comment on the submitted works. The Async art platform allows you to create works of art online using the Async Canvas tool and sell digital art in "layers," that is, in part. But the Mintable marketplace allows you to exhibit your work completely free of charge: the site does not even hold a commission after the first sale.
The popularity of unimaginable tokens will only grow over time and it will soon not work to dismiss this fact. So it's not too late to dive into the NFT theme today! Start with Opensea or Mintable. 
However, any newcomer should remember prudence and caution when investing! After all, none of the sites, no matter how reliable it positions, can guarantee a hundred percent protection against counterfeits.