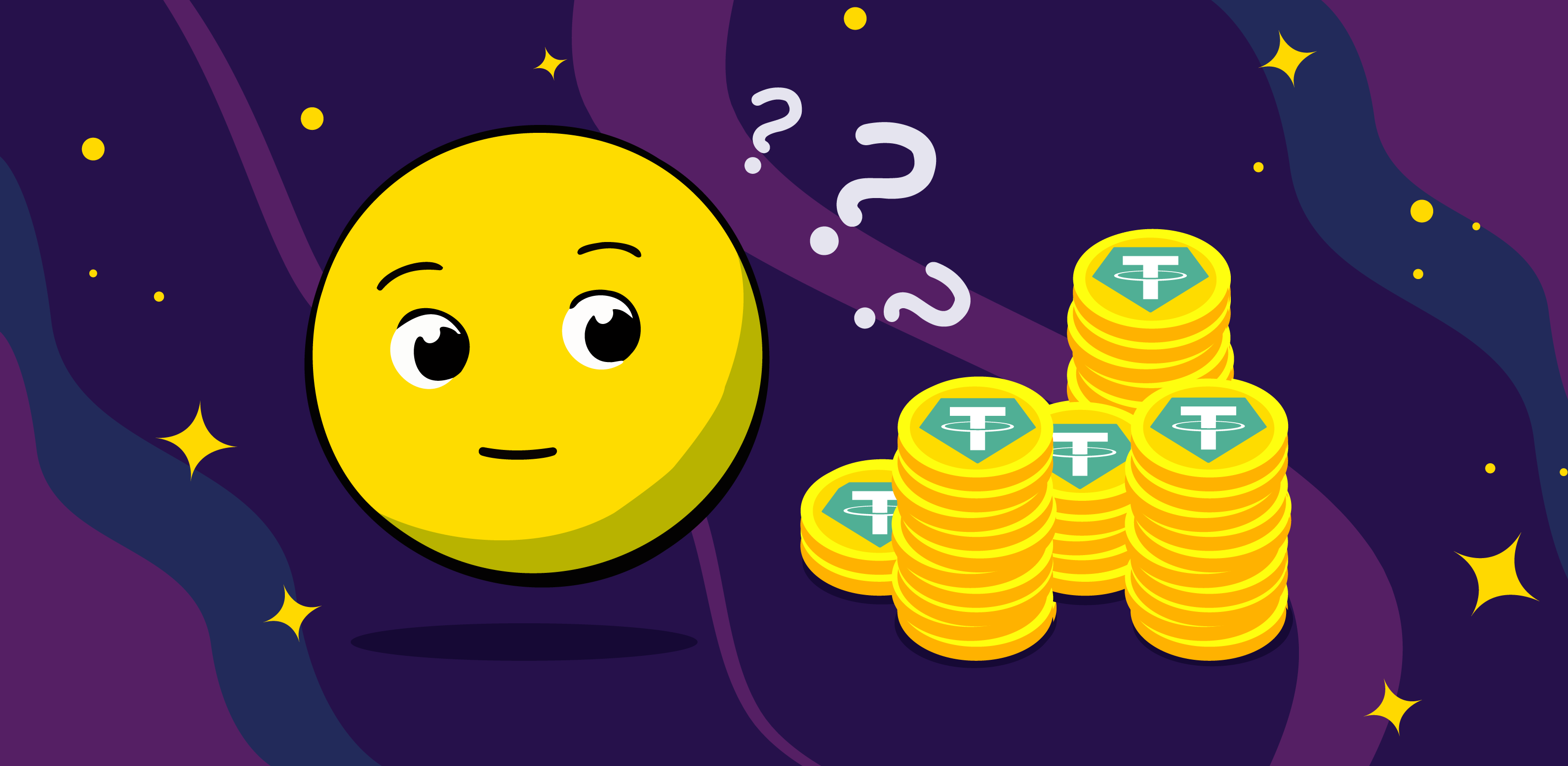 What is Tether crypto?
Tether (or USDT) is a stablecoin — a cryptocurrency that maintains a fixed value with relations to a high-value fiat currency, a crypto asset, or some commodity. A stablecoin maintains the relationship with which it was created, unlike other cryptocurrencies, whose volatility is practically in their nature. In Tether's case, one Tether coin will always have a value equal to or very close to one American dollar. The name of USDT comes from uniting USD, the financial symbol of the dollar, with T for Tether. The idea of Tether belongs to J. R. Willet, known in the world of cryptocurrencies as the man who created ICOs. In 2014, in collaboration with Brock Pierce and Craig Sellars, Willet developed Mastercoin, a blockchain that served as a communications protocol working on Bitcoin. With Mastercoin, it was possible to create a series of layers over Bitcoin in which it was possible to execute other cryptocurrencies or tokens. This was quite a revolution for Bitcoin and opened the doors for new applications and features. In 2014, Pierce and Sellars presented their project called Realcoin. This project was launched using the Omni Layer protocol, the evolution of the well-known Mastercoin. On November 20, 2014, the CEO of Tether, Reeve Collins, announced that the project would be renamed "Tether". At the same time, he also indicated the creation of three currencies: USTether (USDT), EuroTether (EURT), and YenTether (YENT), marking the beginning of USDT's history and its sister currencies.
How Tether works
Tether breaks the concept of decentralization and does not use consensus mechanisms such as proof of work or participation. It is created simply in order to be an instrument of exchange and is not able to explore concepts such as mining. To ensure the transparency of its activity, Tether uses a "proof of funds" that is published periodically on its official website. Tether allows investors to act quickly and also serves as a hedge if an investor detects problems in the markets. In addition to maintaining its value of $1 for 1 USDT, Tether crypto can also be sold during a crash for its total value, allowing the investor to buy cryptocurrencies with big discounts, without seeing the main cryptocurrencies (such as Bitcoin and Ethereum) crashing together, and thus eliminating any advantage.
Advantages and disadvantages of Tether crypto
+ Tether price is stable and your transactions are very cheap. For example, if a user sends USDT from one account to another, there are no fees for said transaction. But USDT exchange for other cryptocurrencies or fiat currencies incurs a small commission to be realized.
+ It is a highly integrable currency. As a result, virtually all exchange platforms offer pairs to trade.
+ It greatly facilitates the task of protecting the traders' funds. This allows to quickly exchange more volatile cryptocurrencies like Bitcoin in a stable cryptocurrency.
- Tether has been used many times to perform fairly gray operations in crypto markets. These operations include price manipulation of other cryptocurrencies and even criminal acts. While these types of stocks are not unique to USDT, the impact of this cryptocurrency multiplies the number of such stocks.
- Tether is a company with many contradictions. It initially offers USDT as a 1:1 cryptocurrency anchored to the dollar, as it appears on the main page of its website. However, in legal and risk terms, the website shows that they do not guarantee a 100% positive outcome. The Tether company has also been involved in several scandals such as the Bitfinex hacking scandal.
- It is not an anonymous currency. It is a cryptocurrency controlled by Tether, therefore it is not decentralized and its functions depend on this company.
- Tether can't be mined, nor does it offer benefits through schemes such as proof of participation.
How to buy Tether crypto
The typical way to buy Tether dollars is to use the cryptocurrencies that you already have available on the exchange platforms. Nowadays, there are also some options to buy Tether directly with your fiat currencies. Currently, these are the exchanges with the largest volume of transactions with Tether: FCoin, BitMax, CoinBene. You can also get Tether on the SwapSpace cryptocurrency exchange aggregator, which is a quick and easy way to obtain the required amount of USDT.
How to exchange USDT on SwapSpace?
On SwapSpace homepage, select USDT in "You send" section and the cryptocurrency you would like to receive in "You get" section. Enter the amount of USDT you want to exchange.
Choose the instant exchange service that suits you most.
Specify the recipient address and check if all the data is correct.
Send your USDT coins to the address you will see on the screen.
Wait until the exchange is complete.
How to store USDT
The most obvious option is the popular Ethereum's MyEtherWallet portfolio that supports USDT since it is an ERC20 token. Tether also has its own wallet, available only through its web platform. Finally, if you want to step up in terms of security, you can use a hardware USDT wallet like Ledger. Learn more about Tether wallets in this article.